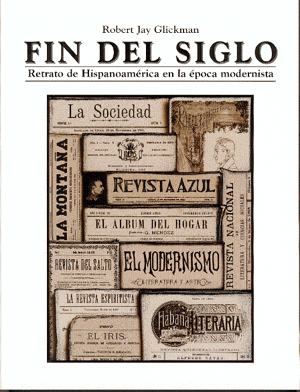 Descripción del libro
(1999) 373pp. ISBN 0-921907-07-9
Algunos de los temas tratados: valores familiares; papel de los sexos; educación; drogas; ciencia: criminología, radiología, ambientalismo, astronomía; medicina: higiene pública, inmunología, transfusión de sangre, trasplante de órganos; invenciones: fotografía, telegrafía sin hilos, televisión, refrigeración, aire acondicionado; transporte terrestre, acuático y aéreo; comercio libre y proteccionismo; sindicalismo; inmigración; socialismo; anticlericalismo; antisemitismo; terrorismo; militarismo; imperialismo; artes y letras; reforma ortográfica; lenguas sintéticas; figuras célebres.
Lo que han dicho los lectores:
"Fin del siglo capta un retrato fiel de Hispanoamérica, y lo hace con gran precisión, claridad e inteligencia. Es una contribución esencial e impresionante a la literatura crítica del siglo XIX". Cathy L. Jrade, Vanderbilt University.
". . . a vivid portrait of Spanish-American life and culture between 1875 and 1910 . . . this entertaining and informative book is a must for students, professional critics and anyone requiring an insight into the cultural mindset of finisecular Spanish America." Philip Swanson, University of Aberdeen. Bulletin of Spanish Studies, LXXX: 6, 2003.(1996).
El autor
B.A. summa cum laude, 1948: Brooklyn College; M.A., 1951: Brown University; Ph.D., 1963: UCLA. Instructor, 1958-60: University of California at Riverside; Harvard University, 1960-63; Profesor, 1963-94: University of Toronto; Profesor Emérito, 1994-presente: University of Toronto.